From the book 'Ceremonies of the Seasons' by Jennifer Cole. The winter turns to spring segment of the wheel of the year.
February 1st .......... Imbolc (pronounced imulk) - The first of the four Celtic festivals, held to celebrate a stirring of life after winter and the beginning of the lambing season. The word Imbolc may derive from old Irish meaning 'in the belly'. The Celts celebrated by lighting fires to honour the Goddess of light, youth and fertility, hearth and home -Brighid - The Bright One.
Brighid later became the Christian St Brigid who was a real person living around 525 CE. Celtic myth and Christian folktales are often blended. One story says Brigid was the midwife of the Virgin Mary.
A lucky charm associated with Imbolc is St Brigids cross - originally woven from rushes and hung on the door to protect, purify and bring good fortune to the home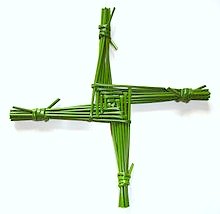 Image from internet
I thought I'd have a go at making one, didn't have rushes but plenty of young willow. But even after soaking it was too thick to fold in half and flatten.
So until I find some rushes somewhere - not common in dry Suffolk but I've seen them occasionally, I had a go with paper strips.
Here's a youtube tutorial................
And my effort with paper.
To hold it together I stuck a piece of green card on the back.
Hope you all have a lovely weekend.............I'm looking forward to the start of the 6 Nations Rugby on TV.
Back on Monday
Sue