I had a quiet day yesterday.
Colin was asleep in bed most of the day as the antibiotics took effect making him feel sick, hopefully before feeling better, and there was nothing drastic that needed doing indoors so after a bit of weeding (and despite being covered with a net frame and having fleece over the edges, something has got in and ruined a lot of the beetroot plants seedlings Grrrrr!) I settled down with a non-fiction book for a change.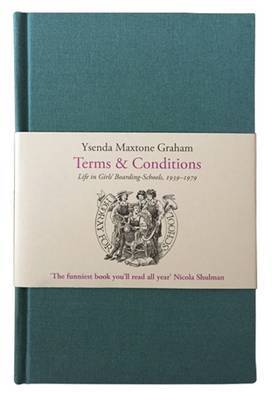 Terms and Conditions; Life in Girls' Boarding Schools 1939 -1979
The Preface is by writer Nicola Shulman - The Marchioness of Normanby and as you can see- in tiny print on the paper wrapper - she says it is "The funniest book you'll read all year". Fascinating yes but I found it a sad book mostly full of stories of the privations suffered by girls in various schools - large and small. Even some of the better, happier schools left the girls with a poor education.
I've mentioned before how few books I had at home so missed out on reading all the stories by Enid Blyton, Angela Brazil and Elinor Brent Dyer written for girls about exciting adventures in boarding schools. This book makes me glad I didn't read them and beg to go to boarding school, not that I would have been able to go anyway!
Post War at Cheltenham Ladies College sounds particularly awful.
Even though I've never been to a a boarding school I can relate to some of the stories about education received during the '60's. I went to a small Grammar School where we were divided in the second year into "streams" - S = Special, this group had the best teachers and were destined for university, G = General - that's where I was, not particularly good, not extra poor then there was the R group R = Remainder - how sickening that even in 1970 there was a class called The Leftovers. I don't know how many of the R class went to uni but I do know that only about half of the G class did. The rest of us left at age 16 after O levels. No encouragement to stay either from home or school. In fact there was virtually no contact between school and home at all, just like the girls left at boarding schools often for months (or more if their parents were overseas) at a time without any visits home. But at least P.E. and Games was only a couple of hours a week, none of our teachers were sadistic and we all got to go home at the end of the day.
This little book is well researched, there is a list in the back thanking over 100 "old girls" that the author spoke to, and is easily read in a day. A little glimpse into the lives of the privileged or maybe not so privileged few. A lovely way to spend a quiet day.
Thank you to whoever mentioned this on a blog - or I would never have know about it.
Also on the subject of keeping quiet. I don't live in a bubble. I do know about the crazy happenings in the world, I do care but just choose not to mention them on my blog. There is enough talk elsewhere.
Back Soon
Sue