image from internet somewhere
Imagine being around in 1652 when the message went round the country that Christmas was banned henceforth. The Puritan Parliament had abolished Christmas and even sat in parliament on Christmas Day.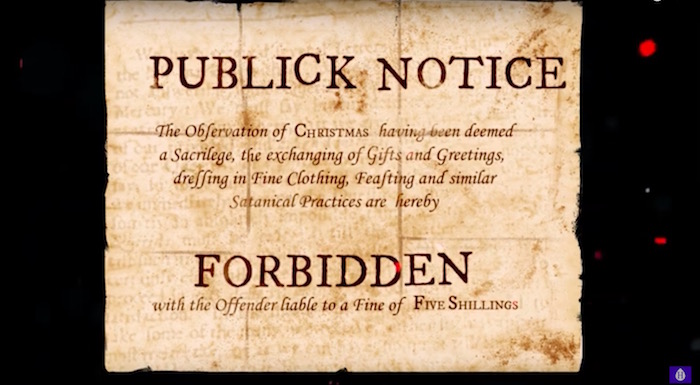 image from boing boing.net
Would people still have sneaked out to bring in a bit of greenery?........ would they have quietly made a Christmas pie?.......(not a pudding, that came a bit later). I have no idea.
A man called Hezekiah Woodward who was a nonconformist minister of the day and also well known for writing and distributing pamphlets - or tracts as they were called then, wrote in 1656..........
" We are persuaded, no one thing more hindreth the gospel work all year long, than doth the observation of that Idol Day once in a year, having so many days of cursed observation with it".
Is he saying - Christmas went on for Far Too Long?.................Nothing new then!
After loving Christmas when our children were young and Col's Mum was alive I was a bit Bah Humbug for a few years in the early 2000's, everything was hard work and I didn't know what to do for presents, or who was coming and going where and when. All Christmas organising was always my job and maybe I got resentful that most of the work and every decision had to be made by me.
image from somewhere else on internet
But I've not been Bah Humbug for several years now........ I got over the grump. So I'm quite happy for supermarkets to play Christmas music for weeks and love to see houses with all their decorations outside from early December. I ignore all the hype about buying and do my own thing. I've got over the dread of "weird presents" and making Christmas Hampers solved the what-to-give problem.
I'm not even going to let the 'being on my own' thing spoil the fun and Christmas for me started last Saturday and will last all month.
I wrote the above paragraph and thought "sure I've written that before?" I went onto the old blog and thanks to looking in Christmas in the Labels...found this from 2013....In fact NOVEMBER 12th 2013!
Every year some people seem to get themselves into a tizzy about the approach of Christmas. They are worrying about the commercialism, the never ending ads on TV. The over eating. The debt. But I can't see the point of getting all "het up" about it ( as we say in Suffolk).

You can preach all you like but there will always be some people who go completely OTT. This is the time that shops take the most money, so of course they are going to advertise. You don't HAVE to buy what they are trying to persuade you to spend on. However much money you give some people they would still spend it on things others consider unnecessary. However little money other people have some will still spend it all and borrow more.
You can be annoyed at the shops playing Christmas songs in November, but there's no point in raising your blood pressure over it. Just do your shopping and leave.
You can be an all-the-year-round Christian or at only-at -Christmas-church visitor but you will be made welcome whoever you are. And if you are not - then find another church next year because if a church doesn't make a stranger feel welcome then they are not doing what they should be doing.
You can be Pagan or Atheist as long as no one is hurt by your beliefs or non beliefs.
You can stay at home, read a good book, watch TV or go to huge family parties, in the whole great scheme of things as long as you are not hurting anyone then it doesn't matter.
You can spend a fortune on presents, make them or buy them secondhand. If the recipient doesn't like it then it's their problem not yours.
CHILL
It's just Christmas, it happens every year. Enjoy it or not.
BUT DON'T GO ON AND ON ABOUT IT!
Blimey, I was a bit preachy back then!
For me to have written this in the first half of November Christmas must have been starting very, very early in blogland........ much earlier than nowadays.
I disabled/dismantled comments on the old blog so have no idea what people said when I wrote that!
Yesterday I met up with Rachel-in-Norfolk for a coffee and catch-up in Diss Morrisons (Didn't notice any Christmas music). They were doing free top-ups of coffee, but had all toilets out-of-order.............. which must have caused some people a problem - luckily I was alright until I got home! Me and Rachel (sorry Rachel and I) have now met up several times and still have plenty to talk about.
Back Tomorrow
Sue