I've finished another little cross stitch picture for a card
Koalas with googly eyes.
I have a request..........do you do cross stitch or know people who do. Please could you ask around and see if anyone has a chart for the little owl on the right. It would have been a free kit on Cross Stitcher Magazine but no idea how long ago -I'm guessing within in the last 10 years.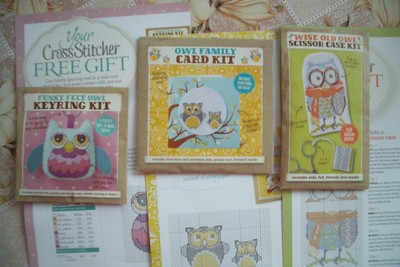 The kit made a scissor case which, with the scissors in the case, made the handles look like the owls eyes. I don't need the kit - just the chart.
I saw these 3 kits on ebay and they sold for.........wait for it................. £19!!!
This is probably a vain hope but while I keep fingers crossed I'll start another little picture for a card.
Purple Irises this time I think
Back Tomorrow
Sue