January 8th is Plough Monday and was traditionally the day when farmers would start to plough their fields ready for spring sowing. Often the ploughs would have been blessed at church the day before.
Plough deep while sluggards sleep:
and you shall have corn to sell and keep.
Turn out for Plough Monday
Up, fellows now
Buckle the horses
And Follow the plough.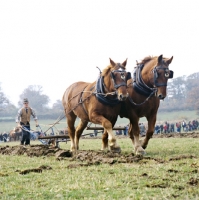 This photo above comes off the internet and as there are dozens of people watching it must be a ploughing match.
The men who walked 10 miles a day in all weathers back in the day would have smiled to see people nowadays doing it for fun or to keep the memory alive. Most of them welcomed the arrival of tractors.
****************************************
On Saturday I visited small grandaughter - now walking lots of steps- but tired, grumpy, teething and a sore bum!
On Sunday visited Colin in hospital, not walking anywhere except to the loo, feeling very rough still, not eating much and waiting for more tests.
Oh dear.
Back Tomorrow
Sue