...............................and I'm putting last week down to experience. I got through.
So apologies for all of last weeks whinging posts and thank you for all the lovely comments and advice. I really do appreciate the virtual hugs and finding other people who are also dealing with bereavement who give encouragement is a great help.
I did get to the doctor who dished out anti-inflammatory and muscle relaxants AKA tranquilizers. I took the first as prescribed but the second were taken at half the amount as I didn't much like the list of nasty side effects and then only for a few days just until things went back to normal. The doctor confirmed what people said................that grief can cause physical pain to be exaggerated when everything in the body is so tense.
And I got down on the floor to do the back exercises which I've not been doing enough of and managed to get back up again........eventually.............. and slowly, slowly the back started getting better.
Then I sent text messages to all 3 children and all 3 phoned me back to cheer me up and Youngest brought Florence over to visit on Friday which cheered me up even more. She's collecting new words like a sponge now and it's lovely to see her so interested in books although she doesn't sit still long enough to actually have one read to her as she likes turning pages and then going off to get " 'nother book"......quantity rather than quality!
That brings me nicely to the book
I've
been reading over the last few days..............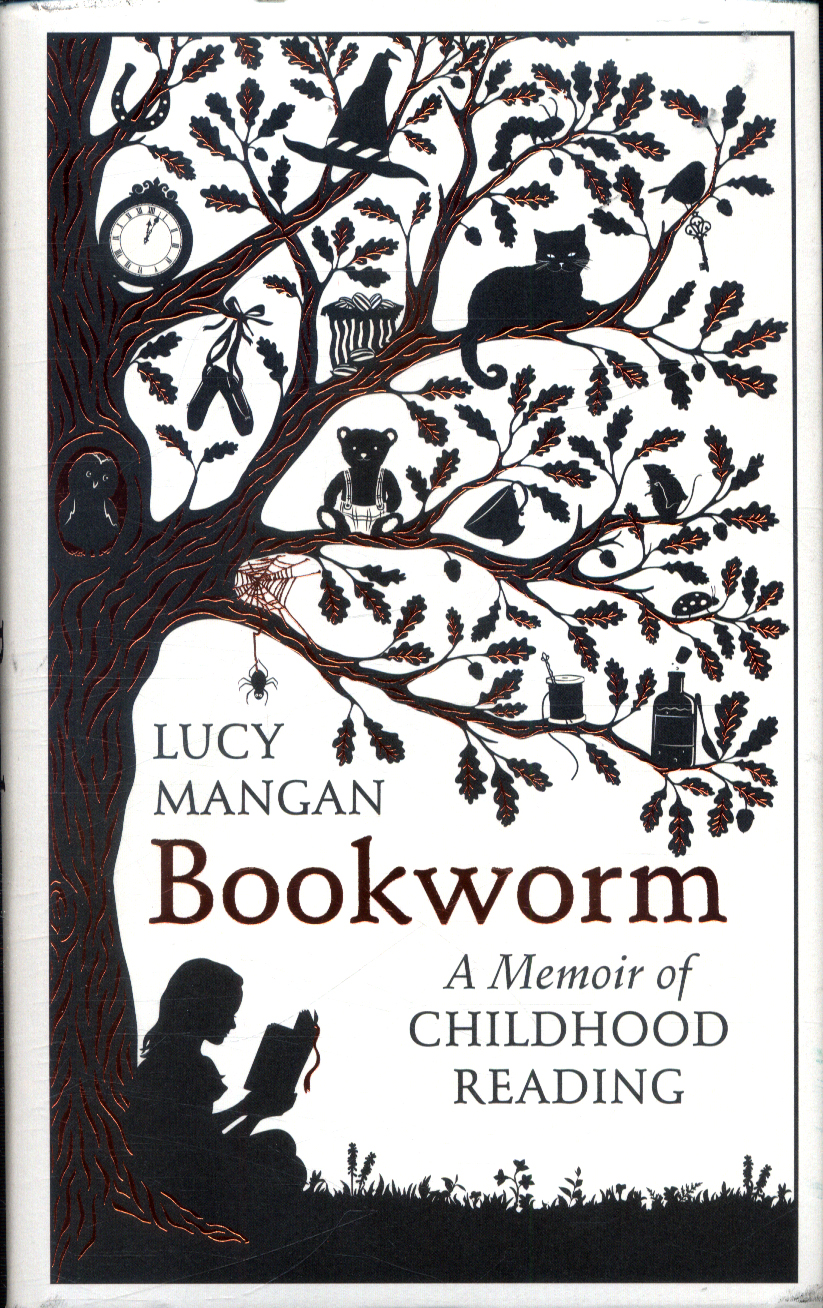 Lucy found books at an early age and preferred them to anything else and she was lucky as her Dad understood and books for her to read came into the house at a great rate.
This is what Amazon says....................
When Lucy Mangan was little, stories were everything. They opened up new worlds and cast light on all the complexities she encountered in this one.She was whisked away to Narnia – and Kirrin Island – and Wonderland. She ventured down rabbit holes and womble burrows into midnight gardens and chocolate factories. She wandered the countryside with Milly-Molly-Mandy, and played by the tracks with the Railway Children. With Charlotte's Web she discovered Death and with Judy Blume it was Boys. No wonder she only left the house for her weekly trip to the library or to spend her pocket money on amassing her own at home.In Bookworm, Lucy revisits her childhood reading with wit, love and gratitude. She relives our best-beloved books, their extraordinary creators, and looks at the thousand subtle ways they shape our lives. She also disinters a few forgotten treasures to inspire the next generation of bookworms and set them on their way.Lucy brings the favourite characters of our collective childhoods back to life – prompting endless re-readings, rediscoveries, and, inevitably, fierce debate – and brilliantly uses them to tell her own story, that of a born, and unrepentant, bookworm.
OR
If you've got 26 minutes to spare you can listen to her being interviewed about this book here.
At the back of the book she lists the books or authors she's mentioned in each chapter and I was sad to find how few of those listed I had read. I know she is 19 years younger than me but many of the books were published earlier but still totally unknown to me until I started working in a library when I was 16.
I need to confer with my sister................. "did we really have as few books at home as I remember?" and if so how on earth did my love of books and reading ever evolve?
All I can remember are the books bought by Aunties.........only at Christmas or birthdays and the Sunday School Anniversary book............given for attendance .........from The Christian Bookshop no doubt. But they were later surely, aged 9+ probably, so what did I read before that or what was read to me in my very early years? I have no idea.
My first memories of any sort of library were of being allowed on the Schools Library Service Mobile Library, which would have been in about 1965, to pick some books that would be in school for the whole year.
(I went off at a tangent when writing this to see if the Schools Library Service still exists in Suffolk, but I can find no mention of it).
And I had no idea libraries in buildings even existed until I was old enough to find it myself ..............a 3 mile bus ride and a walk to the top of the town in about 1969 to borrow books by Alistair McLean and Ian Fleming from here........... Stowmarket library and this is
how it was from the 1930's up to the 1980s. A teeny building hidden in the grounds of the Mid Suffolk (Formally East Suffolk) Council Offices. No wonder it was under-used. Even when I worked there in the late 1970's, I could read a whole book when I worked late. A spooky place too in the dark but lovely and cool in the summer.
Anyway somewhere in the time before I found the library I can remember Enid Blyton's books of short stories, like these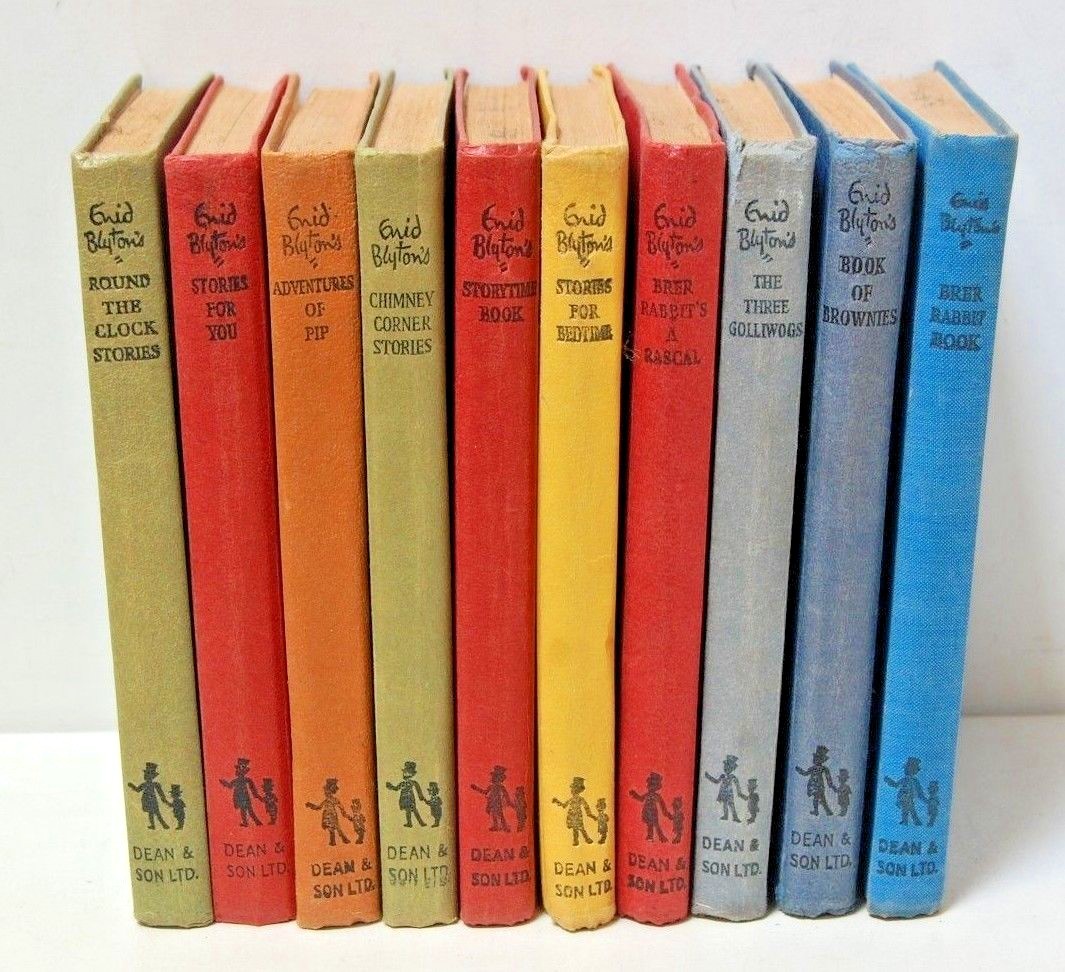 (Picture from ebay and no, I'm not tempted)
I also remember The Lion, The Witch and The Wardrobe and Swallows and Amazons so maybe we were read to at home ( Enid Blyton) and primary school (the rest) after all.
At Grammar school I seem to remember a book club of some sort where we were given a leaflet and could order a book to buy which was delivered to the school and we started to read more in class too, in English lessons...........there was the awful "reading round the class" when each person took it in turns to read a paragraph......... much too slowly for me and I would be miles ahead and have lost the place when it got to my turn again.
There was a school library but my only memory of it was being made to stand outside of it once when I wouldn't stop talking.............were we having a lesson in the library? If so what and why and only one?
All in all I certainly couldn't write a book about early years reading as Lucy has done, she must have a phenomenal memory.
But everything changed in 1971when I decided not to go back to school for A levels (and onto university which was what you were supposed to do if you were at Grammar School) but to get a "dead end" job as a library assistant in Bury St Edmunds Borough Library.
Plenty of reading there!
Back Tomorrow
Sue