First of all thank you to everyone for comments about the NHS winter flu jab. The consensus seems to be that side effects are negligible so I will try and remember to ring at their specified time and book in for October.
***********************************************

Three times a year the Auction place at Campsea Ash has a Domestic and Rural Bygones and Collectibles sale. After a look at the on-line catalogue I decided a journey out to look on viewing day seemed a good idea - must be a year since I last went.
Here is a little look at a few of the 1,000 + Lots

This first photo is from online as it was in the cabinet so impossible to photograph. This is an "Unusual Folk Art Salve Box" - lovely bit of treen Estimated to sell at £20 to £40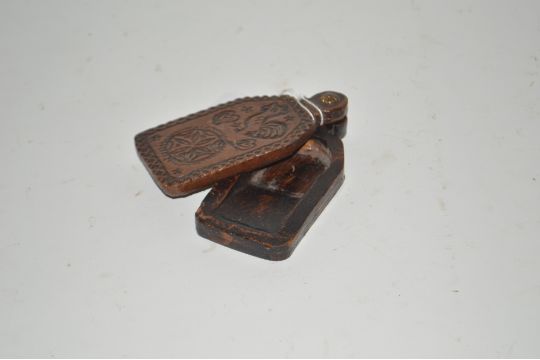 I took a few photos of some of the interesting bits and bobs from amongst the rusty junk!
Old Staddle Stones estimated to go for £200 - £400 EACH!

A newly built "Shepherds Hut".........Estimated at £2,500 - £3,000. ( It didn't meet it's reserve so didn't sell - wouldn't it make a good play house for Grandchildren! - if only I had a spare £2,500!)

I spent ages a few years ago looking for a replacement glass 'fishing float' after mine broke while we were living in Ipswich. There are 6 boxes of them here - about 36 in total. different colours and sizes.
Lots of metal mechanical money boxes, these are reproductions and were estimated at £10 to £20 each.........which is how I know they are repro....... 100+ year old originals would be much more
I love these old gingerbread moulds but they would become dust collectors in my house. The one on the right is double sided and estimated at £40 - £60(It sold for £75) The other was estimated £20 - £40
This is something I LOVE! "An Antique Glass Lacemakers lamp" only about 8 inches tall, but it has nowhere for oil or candle so I think its a magnifier and would have been stood in front of a candle to increase the range of light (Jennie in Wales will tell me if I'm wrong). It is beautiful but estimated at £50 - £80 so not in my price range!
I wouldn't mind this collection of kitchenalia - a few old cookery books and a Tala stacking cake tin. Estimated at £10 - £20

On the catalogue website I thought this little cabinet- below - was about 12 inches wide but it was actually about double that. Estimated at £60 - £80, but it sold for £150.
In front are two old elm bowls from the C19 they sold for £35

A very weird collection of wooden frogs,supposedly from a shop display - very strange but online bidding was already up to £45 on Friday
And finally another photo from the auction website because I forgot to look at this collection of small C19 oddments which includes a couple of Welsh Love spoons. I meant to look specially at the little patch(?) box with a painted lid, it looks very pretty.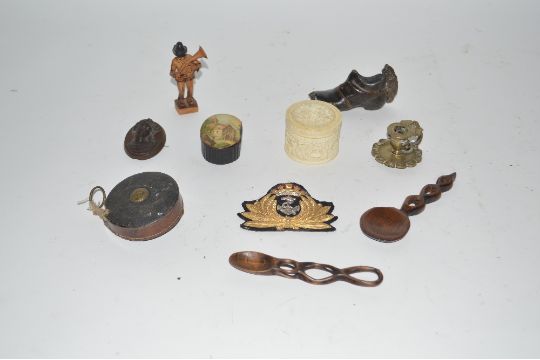 I was having an early lunch so watched some of the auction online. The "Star" lot was a 1952 Series 1 Landrover - owned since new by one farming family and not restored. It was estimated at £5,000 - £7,000 but sold for an amazing £19,000!
I didn't bid on anything but I expect lots of people did and most will have sold by the end of the day.
Back Tomorrow
Sue