That
bargain fruit plant
offer arrived, luckily it came last Friday midday giving me all of the lovely sunny afternoon to sort everything out.
The 12 strawberry plants were planted into pots, given a good watering and left in the greenhouse. 3 Gooseberry bushes and 6 raspberry canes were stood in water for an hour before planting out and cutting back. The 2 blueberries I left in the pots they were in as they were very wet and had almost no root system.
Several £s worth of seeds but mostly things I don't want. So they will go in the car boot box.
200g of fruit fertilizer will be used on the new raspberry bed.
Even without the seeds I think still a good value purchase, although it might be a year or two before I harvest the amount of fruit shown in the ad!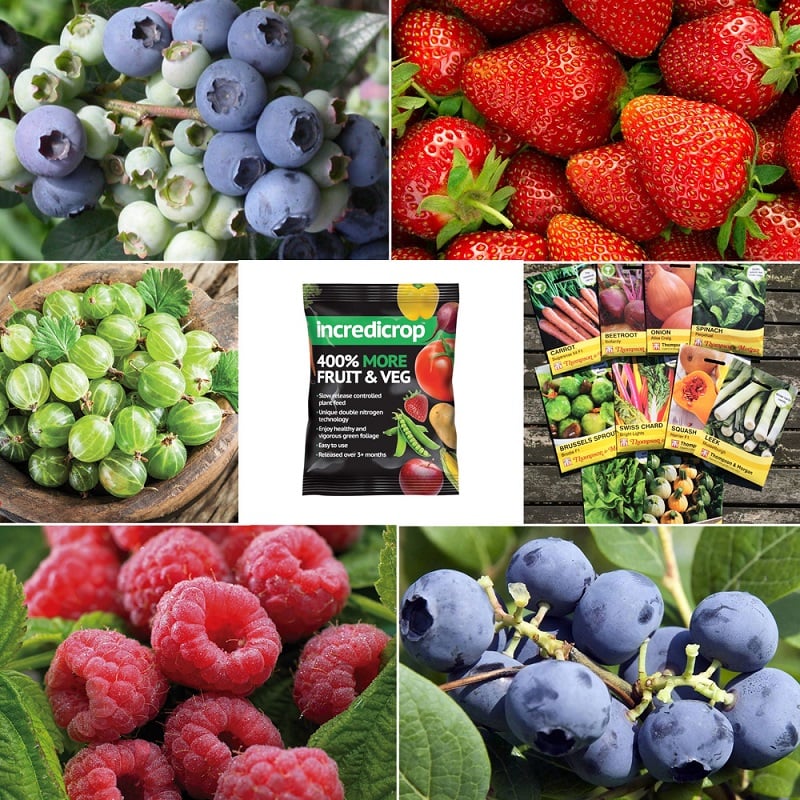 The weather continued to be sunny on Saturday and Sunday but still chilly. People who have been able to sit out for coffee or lunch are very lucky! and must have very sheltered gardens although it is often colder in East Anglia in the spring because we stick out into the cold North Sea.
I got some more grass cut Saturday with the small mower as well as going out - which is for tomorrows post and in the afternoon there were two rugby matches on TV which I watched while writing posts and loading photos.
Spent ages on Sunday trying to find a photo of the inside of the greenhouse on the blog to see what pots were used where last summer. Reason being because I started sorting the greenhouse, just putting the big pots in place with the trays they will stand in, for cucumbers,tomatoes, aubergines and peppers. But I ran out of big pots before I ran out of space - very odd - what pots did I use? where are they now? No idea as I couldn't find a clear photo anywhere on the blog.
What I did find was this list made last August, after just 3 months alone and puzzling how I would get through the winter.
Well, I got through the winter OK so added some ticks to all the ones that have been done. ...Feels like success!
Clear the garden✓
Clear the greenhouse and wash down✓
Wash all the used pots ✓
Clear the patio pots of summer stuff and then✓
Plant up some pots for winter colour✓ (Although everything has died off now)
Keep swimming✓
Keep going to monthly craft group (No, too gossipy! anyway it clashed with swimming day)
Sort through Colin's clothes and send to charity shop/clothes bank (I cleared his chest of drawers several weeks ago because I need to move it but the wardrobe is still full) (Almost finished)
Make a memory box for the grandchildren. A lovely idea that a friend (who was a Cruse Bereavement counselor) gave me.(Started)
Go through Col's books and sort.......... to Ziffit/Charity shop/ keep/donate to Mid Suffolk Light Railway Museum ( I've actually made a start on this already)✓
Go through Colin's DVDs and CDs and sort as above✓
Visit more churches in Suffolk ✓
Day out in Bury St Edmunds ✓
Day out in Felixstowe (It was too cold to linger when I went)
Make lots of birthday cards - I've stocked up on 3D Decoupage sheets ready to get started✓
Start the HUGE job of sorting out all the might-come-in-handy stuff in the workshop. I have no idea what a lot of it is anyway. Sort into crates for selling at Auction and stuff for a skip. (ongoing for many months I think)
Help at a charity shop? ✓
Read (goes without saying!)✓
Visit local NT properties that are open. (Haven't got to any as Sutton Hoo has been closed all winter- waste of membership so far)
Chop kindling and pick up twigs for fire lighting.✓
I had completely forgotten about that list so it was good to find it.
Hello and welcome to some more followers and thank you for all the comments on Saturday's post
Back Tomorrow
Sue