Once again I have read a book that's been shortlisted for The Wainwright Book Prize. This prize is for UK nature and travel writing and is the only Book Prize that has books that I can understand........many book prizes are for weird books! ....and I know that's a terrible generalization.
HERE is where I wrote about 2018 Wainwright prize books
And this is the one just finished from the 2019 shortlist
Juliet Blaxland lives in a house almost on the edge of the cliffs just north of Southwold in Suffolk. In a few years or maybe even less the house will be demolished as the sandy cliffs fall away into the sea.
This small book is a look through the years she has lived here, the wildlife and the people around and the things that make Suffolk so different and special.
It was a very quick read but I enjoyed it.
Thought I would look back at the history of The Wainwright Prize to see which books I'd read from previous years.
2014 was the first year This was the shortlist and I haven't read any
The Green Road Into Trees: A Walk Through England, by Hugh Thomson (Windmill/Random House)
Under Another Sky, by Charlotte Higgins (Vintage PB / HB Jonathan Cape)
Badgerlands, by Patrick Barkham ( Granta Publications)
Field Notes from a Hidden City, by Esther Woolfson (

Granta Publications)
Walking Home,
by Simon Armitage (Faber

)
The Old Ways, by Robert Macfarlane (Penguin)

In 2015, Oh, haven't read any of these either! (although I tried H is for Hawk but didn't finish it)

Meadowland by John Lewis-Stempel (Transworld Publishers)
Claxton: Field Notes from a Small Planet by Mark Cocker (Vintage, Penguin Random House)
H is for Hawk by Helen Macdonald (Vintage, Penguin Random House)
Rising Ground: A Search for the Spirit of Place by Philip Marsden (Granta Publications)
Running Free: A Runner's Journey Back to Nature by Richard Askwith (Vintage/Yellow Jersey, Penguin Random House)
The Moor by William Atkins (Faber & Faber)
2016. At last - I've actually read one..........The Shepherds Life
The Outrun by Amy Liptrot
Common Ground by Rob Cowen
Landmarks by Robert Macfarlane
The Fish Ladder by Katharine Norbury
The Moth Snowstorm by Michael McCarthy
The Shepherd's Life by James Rebanks
2017........Better ....I've read 2 out of the shortlist....The January Man and The Running Hare
Where Poppies Blow
by John Lewis Stempel
Love of Country by Madeleine Bunting
The January Man by Christopher Somerville
The Otters' Tale by Simon Cooper
The Running Hare by John Lewis-Stempel
The Wild Other by Clover Stroud
Wild Kingdom by Stephen Moss
From the 2018 list mentioned at the top of the blog I had read 3.
So I ought to read 4 from this year's short list, pictured below .....but doubt I will.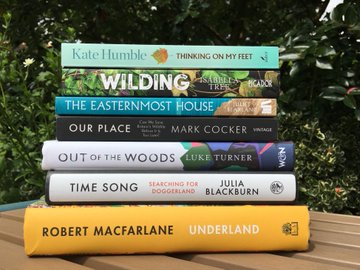 Picture from Wainwright prize website
Thank you for the get well wishes on Saturday. I went shopping early and then had a lazy day and on Sunday felt OK enough to pop out to the local boot sale and do half an hours gardening so I think the whatever-it-was is on it's way out. I felt fairly sure it wasn't anything that needed a doctor, just time and plenty of fluids. That's my answer to most things as the children would testify .....when they rang up from Uni telling me what horrible colds they had I would inevitably say "stay off the booze, drink plenty of water, take paracetamol and get an early night!"
Back Tomorrow
Sue