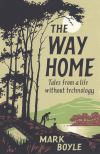 I've been reading 'The Way Home, Tales from a life without technology.' by Mark Boyle. Another book written by someone trying to search for a simple life.....The library website says....

No running water, no car, no electricity or any of

the

things it powers:

the

internet, phone, washing machine, radio or light bulb. Just

a

wooden cabin, on

a

smallholding, by

the

edge of

a

stand of spruce. In this honest and lyrical account of

a

remarkable

life

without

modern

technology

, Mark Boyle explores

the

hard won joys of building

a

home

with his bare hands, learning to make fire, collecting water

from

the

spring, foraging and fishing. What he finds is an elemental

life

, one governed by

the

rhythms of

the

sun and seasons, where

life

and death dance in

a

primal landscape of blood, wood, muck, water, and fire - much

the

same

life

we have lived for most of our time on earth. Revisiting it brings

a

deep insight into what it means to be human at

a

time when

the

boundaries between man and machine are blurring.

(His earlier book in 2010 was all about a year without money, 'Moneyless man, A Year of Freeconomic Living'.)

After writing about the book 'Copsford' yesterday I got to thinking about all the books I have read about living a "simple life", starting with John Seymour's Self Sufficiency books, Elizabeth West's Hovel books, Patrick Rivers' back to the land books and others from the 1970s.
I still own a few
More recently Neil Ansells book "Deep Country" written in 2012 and the most recent was the book I read last year and wrote about
HERE
. Gaining Ground is a fictional account of a woman running away to a cabin in the woods.
Not many people can run away to a cabin in the woods and I'm not sure that's the answer anyway.
I think I'm now living the quietest and most simple life I've ever lived. I didn't choose to be alone like the woman in Gaining Ground but during the last year I've learned to try to be positive about it and at least no one can argue with me about what I do! On the whole, most days I'm happy, as happy as all the happy times in my life before and much better than the hard sad times - mostly caused by depression. The occasional sad days are just that - a sad day, it passes and I'm back to contentment again.
Somewhere back in smallholder days I remember writing about people saying that we had gone back to a simple life on the smallholding - Ha! far from it. It was hard work - not that we minded as it was what we had wanted to do for so many years.
I wrote that a real simple life would be living in a house rented from a responsible landlord (so someone else has to deal with repairs) with a maid (to do all the work) with no garden (so you don't need to think about caring for plants) beside a railway station and a bus stop (so you don't need to run a car with all it's attendant worries) next door to a Waitrose and a M&S (so you could buy very top quality food that needs no preparation). BUT how boring that would be!
I think you can still have a quiet and simple life even if you keep the phone, car, washing machine etc and even if you don't move to a cabin in the woods. It's all a state of mind and I'm never bored.
Back Tomorrow
Sue