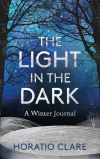 I was looking forward to reading this as I'd previously read his biography of childhood " Heading for the Hills".
This is the Amazon description........ Winter...............
It is a time of introspection, of looking inwards. Seasonal sadness; winter blues; depression – such feelings are widespread in the darker months. But by looking outwards, by being in and observing nature, we can appreciate its rhythms. Mountains make sense in any weather. The voices of a wood always speak consolation. A brush of frost; subtle colours; days as bright as a magpie's cackle. We can learn to see and celebrate winter in all its shadows and lights.

In this moving and lyrical evocation of a British winter and the feelings it inspires, Horatio Clare raises a torch against the darkness, illuminating the blackest corners of the season, and delving into memory and myth to explore the powerful hold that winter has on us. By learning to see, we can find the magic, the light that burns bright at the heart of winter: spring will come again.
Well, that's what they said but I found it disappointing. It's a short book written as a diary of the winter of 2017/18 by someone who suffers with seasonal
depression.
This is the way he gets through the weather and work and I think could have been written by anybody slightly depressed and living in the North of England through last winter!
An interesting short read but it didn't cheer me up, just made me thankful for libraries so that I hadn't had to spend £12.99 to read it!
This is the 4th book read this month, the rest were all crime fiction so it was good to have a change. The library van is round again later this week and I still have 8 books unread.
Notes about books read have been entered on the new 2019 page.
Thanks for all the comments yesterday and hello to 3 new followers, hope you enjoy reading.
Back Tomorrow
Sue