Thank you to everyone for comments about the remaining Debenham photos. Interesting to hear about another area called The Butts in Brentford.
***************

It's a strange but true happening that sometimes I read a book about a certain subject and then the same subject pops up in another book only a little while later.
I wrote about Richard Osman's book, The Thursday Murder Club just over a week ago HERE It's about a group of friends in a Retirement Village who set out to solve old murders.
Next up was The Postscript Murders by Elly Griffiths.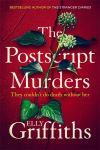 It's the second of a series featuring DS Harbinder Kaur who sees nothing to concern her when an elderly lady dies in a block of retirement flats in Shoreham-on-Sea. But Peggy's carer Natalka tells Harbider that Peggy was sure someone had been following her and how is it that Peggy has business cards that refer to her as a 'Murder Consultant' and so many crime novels that thank her in the acknowledgements? Soon Harbinder, Natalka and two more of Peggy's friends are involved with several of the crime writers and end up travelling to Scotland for a Crime Book Festival.
Now here's a paragraph from the end of the book
" Actually" says Harbinder, "Pippa Sinclair Lewis told me that Seventh Seal are publishing Lance Foster's posthumous novel. It's called 'The Bow Window Set' and it's about a group of old ladies in a care home who solve crimes"
There you go - coincidence or what!
I've now got a cardboard posting folder so I can send off the copy of Richard Osman's "The Thursday Murder Club". I promised to pass it on to someone else as it was so kindly donated to me by a blog reader.
Leave a comment if you would like it. I'll do a draw and then sort out address later. It would be nice if whoever gets it could also pass it on.
(Just editing to say UK only please as anywhere else is just very expensive nowadays - sorry)

Back Tomorrow
Sue